Despite the majority of our clients looking to live in Valencia City or in Inland Valencia towns where you can get a great lifestyle (Yes, we have a post about that which many people think is one of the best guides to the towns around Valencia city) we also get requests for properties with "sea views" or their location being right near the sea. In Valencia City that means you are limited to a few roads in the Cabanyal, Malvarrosa and the Patacona areas with a shout out to El Saler to the South of the city on the Albufera lake. In El Saler, if you are lucky, you'll get sea views to one side and lake views to the other, but apart from that there's not much availability of close up sea views. Valencia is flat after all so you may be just a few streets away from the sea but if the building behind you is just as high as yours then your sea view is blocked.
Some people just need to be near to the Mediterranean, so today we are going to look at some of the most popular options for places to enjoy great beaches (empty for much of the year), sea breezes, water sports and more. Where in the Valencia community can you find decent places that are not like ghost towns in the winter and have something to offer you?
We are going to divide this into three areas and two posts as the Valencian Community has three seperate entities, Castellón to the North, Valencia itself and Alicante to the South, However, we are only including Northern Alicante as these are areas that we cover to a certain extent and on a blog about Valencia going to southern Alicante would be a tad weird. Today's post is all about the lesser known area of Castellón and the areas to the North of Valencia. Next week we will continue with our guide to the beach areas to the south of Valencia city and into Alicante.
---
Castellón Beach Towns
---
Vinarós/Benicarlo/Peñiscola
We are going to group these three places together as they comprise the extreme North of Castellón province having passed the protected Sierra de Irta. Peñiscola is the best known of the three with its castle on the headland famous for appearing in El Cid back in the day and Game of Thrones more recently, and yes, the tourist tat from Game of Thrones can be found everywhere on the headland.
The town itself has a gloriously long sandy beach to the north of the headland and an excellent enclosed cove to the south. The roads out of town to the south lead us into the protected Sierra de Irta with it's mountain backdrop and the roads out to the North lead us to Benicarló, with its Parador hotel and the much more commercial Vinarós. If I had to choose to live in any of these three places, or have a property there for weekends and summer breaks, it would be Peñiscola every time and on the headland. However if you dislike tourist hordes at peak times then maybe give it a miss and head into Benicarló.
---
Alcossebre
To the South of the Sierra de Irta, and therefore much more reachable from Valencia, we have Alcossebre, an extremely attractive small town of just over 4000 people which is one of those places I just keep coming back to. A selection of excellent small coves and extensions of pristine sand and an area to the South of the town resembling the Costa Brava. It's never overcrowded and there are just enough people living there all year round to justify the cafe owners staying open so there's always life in the town. Pretty, off the beaten track and with excellent beaches. What more could you ask for?
---
Oropesa
A carbuncle on the face of humanity, Oropesa was the dream of one of the most corrupt people ever to walk the face of the Valencian community, the imprisoned multiple times lottery winner (Name redacted but you can ask me when you see me if you want, suffice to say if you google the term "who became famous for building a planeless airport featuring a large statue in his honour" an article about him will magically appear)
Devised as a year long spa and party retreat in the key of Benidorm/Las Vegas it was decided that the Russian gulag look would work on the Mediterranean coast. It didn't. And it's a real pity because the area was really quite nice and the beach was lovely. Home of the Marina D'Or complex if you like a total lack of authenticity and lots and lots of people then it might just be for you. It isn't for me. You go past it on the Valencia- Barcelona motorway and can see it in the distance and you find yourself asking "WTAF is THAT?", best to leave it at that really. Partially responsible for the airport in Castellón, and boy is there a story behind that (see above), Oropesa del Mar has a lot to answer for.
---
Benicassim
Just 10km to the South of the carbuncle we get to a totally different style of beach area, Benicassim. Famous for "Glastonbury in the Sun" every year with the music festival, Benicassim is so much more. This is where "Old Valencian Money" used to build their impressive beach villas. And you can tell.
---
---
---
Benicassim has a wide expanse of sand and is overlooked by an impressive promenade which is fringed by palm trees and huge villas, many of them now converted into restaurants, museums and more. Gastrobars, cool coffee shops and money are what you get to see in Benicassim and then in the summer it hosts various music festivals attracting the youth from all around Europe for their Glastonbury experience without the mud and with added sand, sea and warmth.
Oh, and if you fancy buying one of those villas, it's difficult. They stay in family hands through the generations and they are very very expensive and in demand when one comes onto the market. However if you want direct access to the beach then start at around 1.8m Euros and think higher.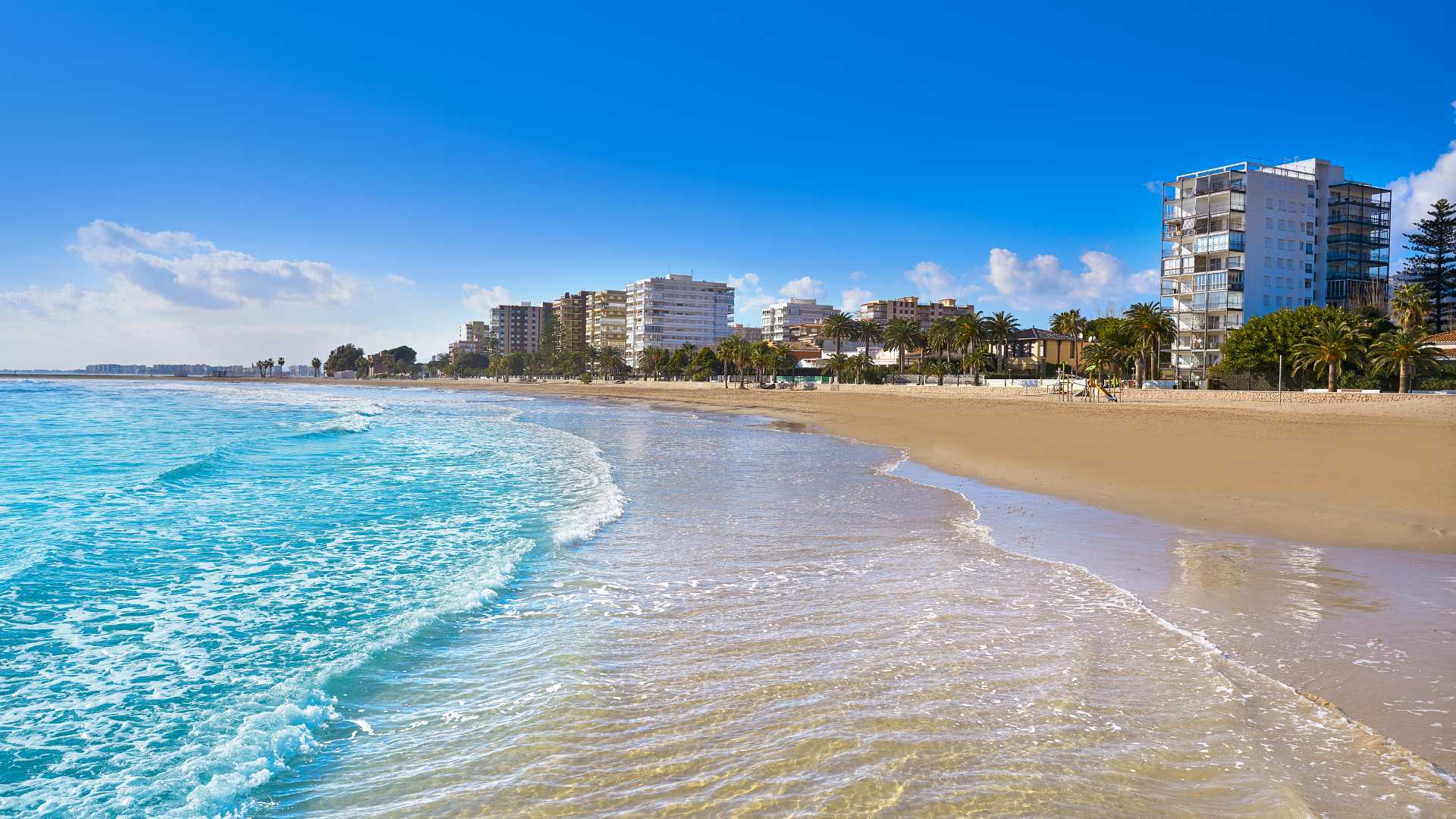 ---
El Grao De Castellón
Just to the North of the city of Castellón you can find El Grao de Castellón. Starting from the port and moving North this area is a lovely little surprise for anyone who doesn't know it, and in that I include myself when I visited it earlier this year. It gets a few more points due to its proximity to Castellón too meaning you have a decent sized city on your doorstep and plenty of public transport options to get into the city for when you want to do some retail therapy or just find greater choice in your restaurant and cafe adventures. You even have a golf course here. Avoid the area around Castellón Port though. Lots of very cheap flats mostly without lifts and all needing modernisation. It's a bit grim but you won't really be able to put any value into them as the buildings need work too.
---
Moncofar
The area of Moncofar became hugely popular with Valencians and Castellonenses in the early 2000s as it grew and grew during the property boom years. You got your two bedroom beachside apartments for under 100k and spent every weekend there when there was decent weather and even whole summers. Let's call it the quick escape to the beach destination and leave it there. One of those places where you can get away from it all out of season while still having some people around but it gets really busy in the summer and is relatively quiet but not totally empty in the winter.
---
Valencia Beach Towns to the North
---
Before starting to talk about the beach towns to the North of Valencia you should know a surprising thing. Everyone asks why there is a Puig and a Puig Playa, Puzol and Puzol Playa, Sagunto and Puerto de Sagunto, Almenara and Almenara Playa… etc…
It's because of marshes, lots of them.
The area to the North of the city used to be marshland, and in many cases still is, and in the days before drainage or drying out, before reclamation of land and before people liking to look over sea views and contemplate the horizon and their life choices, there was little interest in living on the coastal strip on the other side of the marshes. Except for fishermen of course, for them it was heaven.
Therefore when we talk below about each Valencian town assume there is an original town a couple of kilometres inland and the newer area known with that town's name plus Playa to distinguish it from the original town. See below in the two maps, Chilches and Xilxes the beach area, and Almenara and Almenara Playa separated by the motorway and also one of the remaining marshlands. Straight roads connecting the original towns with the beach towns and lots of blue spurs indicating irrigation canals. If you're into Twitching (Birdwatching) you'll love these areas and the Albufera to the south of the city.
---
---
Canet D'en Berenguer
Canet has a lovely sandy beach with dunes protecting the town from the worst of the Mediterranean's caprices. It has an excellent Marina and to the north of the Marina a great promenade between the cafes and dunes so even in the winter you get protection from the wind and can sit on the terraces in the sun enjoying your coffee or something a little stronger. Easy to get to by bus from Sagunto, Canet's beach was developed in the early 2000s like everywhere but didn't get overdeveloped. You still get that feeling of space and solitude in the winter without feeling overwhelm in the summer and with it being just half an hour from the city of Valencia and a similar distance to Castellón it's surprising that somewhere so nice can be not overrun.
---
---
---
Puerto de Sagunto
Massively overlooked and amazingly cheap for your beachside apartment, Puerto de Sagunto is a nice surprise for those looking to have a beach getaway that doesn't close down totally off season. Now let the truth out, it's not pretty, the beach isn't the longest palm fringed beauty but it's a great beach for a working town and the water quality is usually great for a beach so close to a working port. And if you fancy something more duney, more palm-tree lined then Canet lies just three kilometres to the North on a really nice pathway to reach it.
Plenty of cafes, bars and restaurants and a short bus ride to the Roman town of Sagunto itself where you can also find the quick train into Valencia.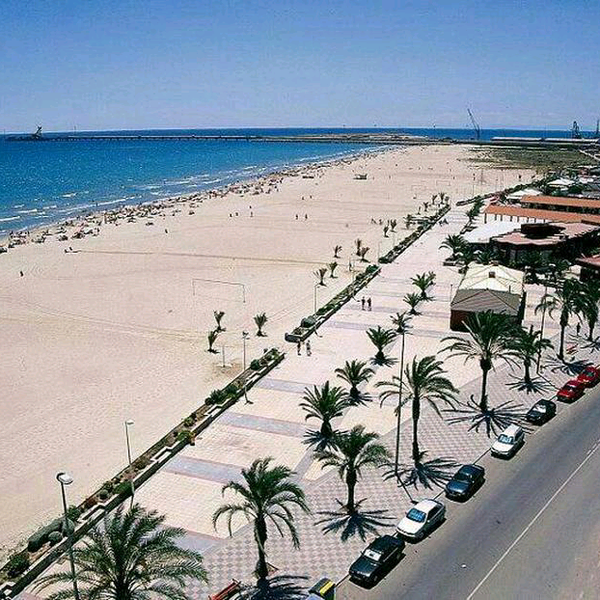 ---
---
Pobla de Farnals
Next. Not our favourite place. Around six kilometres to the north of Valencia fringed by the motorway and the beach and full of tower blocks almost guaranteeing some form of sea view but very, very quiet in the winter when most of the cafes close and then they ramp up the prices in the summer for mostly quick fried fish dishes to try and make a year's money in two or three months. A bit grim but if it's sea views you want then you get them here.
Port Saplaya
Something different just 4km to the North of Valencia and often described as Valencia's Venice (it isn't) Port Saplaya is a residential complex built around a large Marina with sea or marina views from most of the apartments. Liked by those who love water sports with a decent beach and lots of opportunities for the yachties and water sports enthusiasts yet within easy striking distance of the city of Valencia itself, Port Saplaya ticks a lot of boxes for people. It belongs to the town of Alboraya which lies on the edge of Valencia and where you can also find the Patacona beach and a decent town centre which is the home of Horchata, Valencia's typical Tiger Nut drink. And the northern part of the Patacona beach opposite the campsite where the buildings finish has a dog beach for our furry friends to splash about.
---
Coming Soon
Next week we will have the second part of this article as we discover more of the beach areas to the south of the city and also into the Northern part of Alicante. Before the end of the year we will have our annual look back at the Valencia Property Market in 2022, our long awaited article about craft beers in Valencia (I'm told) and a new competition to win a really nice prize to adorn your wall on your property in Valencia. More properties, more news and more irreverance coming up in your feed so bookmark our pages and keep visiting.
---
Valencia Property News
The Valencian Government has put in place a requirement for all of those working in the Valencia Property market to have a new qualification in real estate and also to be part of the new register of agents offering property in Valencia. All of our team are currently working on this and will be newly qualified in the next few weeks and months. Yours truly did the supposedly 200 hour course in nine days while working too and passed with flying colours of course ;-). So very soon you will be able to ask to see our certificates, check out our insurance coverage and check us out on the Valencia regional government's register. This should give you even more confidence in what we offer you if the blog, the listings, the reviews and the openness didn't already.
The idea of professionalising the people and companies working in Valencia Property has been mooted for years after the opening up of the profession in the late 90s. It allowed cowboys, fly-by-nights and con artists to work with impunity but at the same time it stopped there being a closed shop with elevated prices and lack of competition and this opening up was what brought me into the market too after suffering massively when trying to buy my first place here. I thought I have to be able to do better than what I had experienced. My experience back in the day when all of the people working in property had to belong to the professional association wasn't great so the light touch regulations coming in are to be welcomed.
---
Golden Visa Property of the Week
This is Villa Hendaya, which is handy enough for me because sometimes when you have a really good property*, it can make for a very boring listing.
But Hendaya is a town in the south of France, maybe best known in this part of the world as being the location of a meeting between Hitler and Franco** soon after World War Two broke out. Hitler wanted Franco's help in the war, but as Franco was no ordinary eejit, he said 'ah I'm grand here for the moment, belt away yourself, I'll probably catch up later'. And as anyone who's tried to drag their mate out on an ill-advised Sunday night bender knows, that really means 'Are you out of your mind, that's pretty much the worst idea I've ever heard, you're on your own you mad lunatic'.
And, like lending your mate a fiver for said bender, Hitler didn't go home empty-handed. Franco agreed to change Spain's clocks to the same time as Germany (previously Germany was an hour ahead). Don't ask me why, it was all he had on him I suppose. So despite Valencia being directly to the south of London, we are one hour ahead of Ireland and Britain. And still to this day, because having dinner at 10 at night and getting bad indigestion and an hours less sleep than the average European is working so well for everybody, we still honour that promise Franco made to his besty all those years ago.
Now, you learn something new every day. You're welcome.
*Spacious living room with large windows overlooking the garden and pool, kitchen with large windows overlooking the garden, large pantry, designer sliding doors in the hall and kitchen, 4 double rooms with fitted wardrobes and all with views and access to the garden and pool, two full bathrooms, one of them in the main room. Underfloor heating, hot and cold air conditioning, interior and perimeter alarm, windows of double glazed aluminium, motorized blinds, porcelain floor, interior carpentry of finest quality , led halogen lights, covered garage for two cars with automatic gates, tropical garden, salt pool.
**He was really really really bad. No redeeming features at all. A fascist dictator and nothing more.
---
If You Liked This
Then make sure to find out more about other areas of Valencia where you can find a great lifestyle by clicking on the images below and reading more and if you want to know more about anything to do with Valencia and the Valencia Property market then shoot us a mail and we will endeavour to cover it on the blog or point you in the direction of where we have already written about it.
---
---
---
---
---
---
---